My goal is to try to express the beauty and egnatic energy that horses create.
My passion is horses. Always has been, always will be.

Currently you can purchase all types of prints at my gallery atFine Art America. Contact me personally to purchase originals or discuss a commisioned piece. The 'matting' that you see here on the website are virtual. You can choose your own matting, framing and color options when you order. Visit more horse art at equine drawing drawings and equine drawing prints.
Niko

Niko, a Thoroughbred - color pencil on greyboard
This is a commissioned piece I did of a Appendix Thoroughbred gelding named Niko, at a ranch in Colorado. He was a rescue, and now his owner Eric uses him mostly for lessons and for some dressage. The original is 13 x 19, not available.
Harmony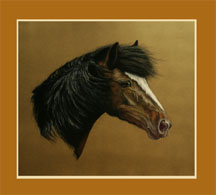 Two Step Harmony, A Shetland Mare - pencil
No one can draw horses without drawing a portrait of their own horse. This is my first horse, a beautiful little Shetland mare named Two Step Harmony. To me, she is just Harmony. Prints only.
Casey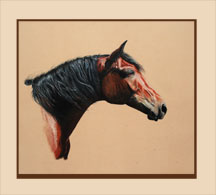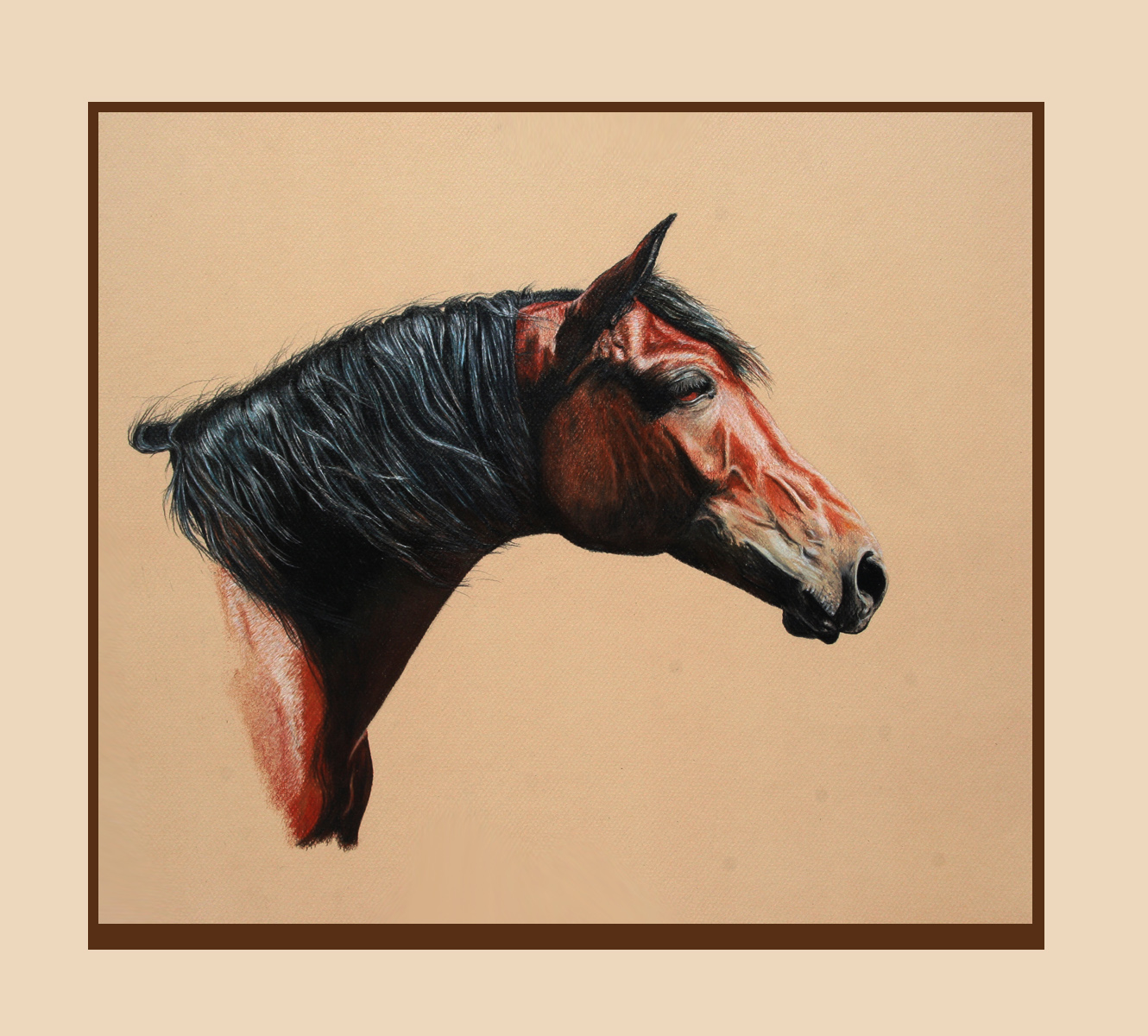 Casey, a Missouri Fox Trotter - color pencil on artboard.
This is a commissioned piece I did of a Missouri Fox Trotter gelding named Casey. He lives with Niko. The original is 16 x 20. Prints only available.
BareBack Bronc

Bareback Bronc - watercolor
I found a old, old black & white rodeo photo of a bareback bronc, then decided that I wanted the horse to be a palamino. This is actually acrylic in watercolor mode. Original is 11x15 and is available. Contact me privately.
Bay Arabian Stallion

Arabian Stallion - pencil, sepia tone
In the early 1970's there was a champoin Arab stallion named Bay Event. I styled one of my Breyer horses after him and followed up with a portrait of him. The original is just a pencil, but I colored it with sepia tones in Photoshop for this warm, brown stallion. Prints only.
White Arab Mare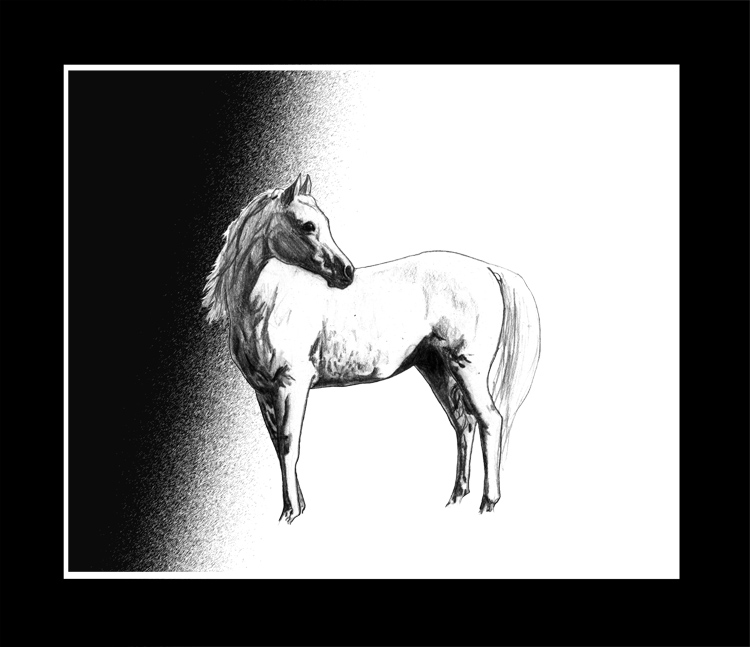 Arab Mare - pencil
When I was young, Arabians were my favorite breed, so I drew a lot of them. I thought this Arab Mare was striking, but I can't say I remember the source material for this picture. Prints only.
A Horse

A Horse - pen and ink
This was a art school project, just a simple portrait originally in pen & ink. So simple and attractive, to me it bespeaks
"horse"
. Prints only.
Racehorse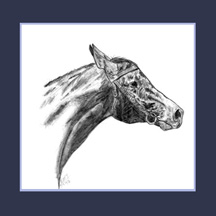 Race Horse Portrait - pencil
This was a style of detail pencil drawing style I was into during a period of time. I was very much into tight details. I have no idea what the source material was for this picture. Prints only.
Red Roan Herd Stallion

Red Roan Herd Stallion - color pencil
These days the wild mustangs are my passion. A beautiful, war scared bay roan stallion with 3 mares. This portrait was a composition of several photographs. Original 16x22 and is available. Contact me privately.
Mare & Foal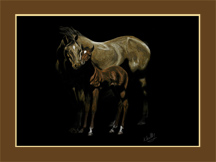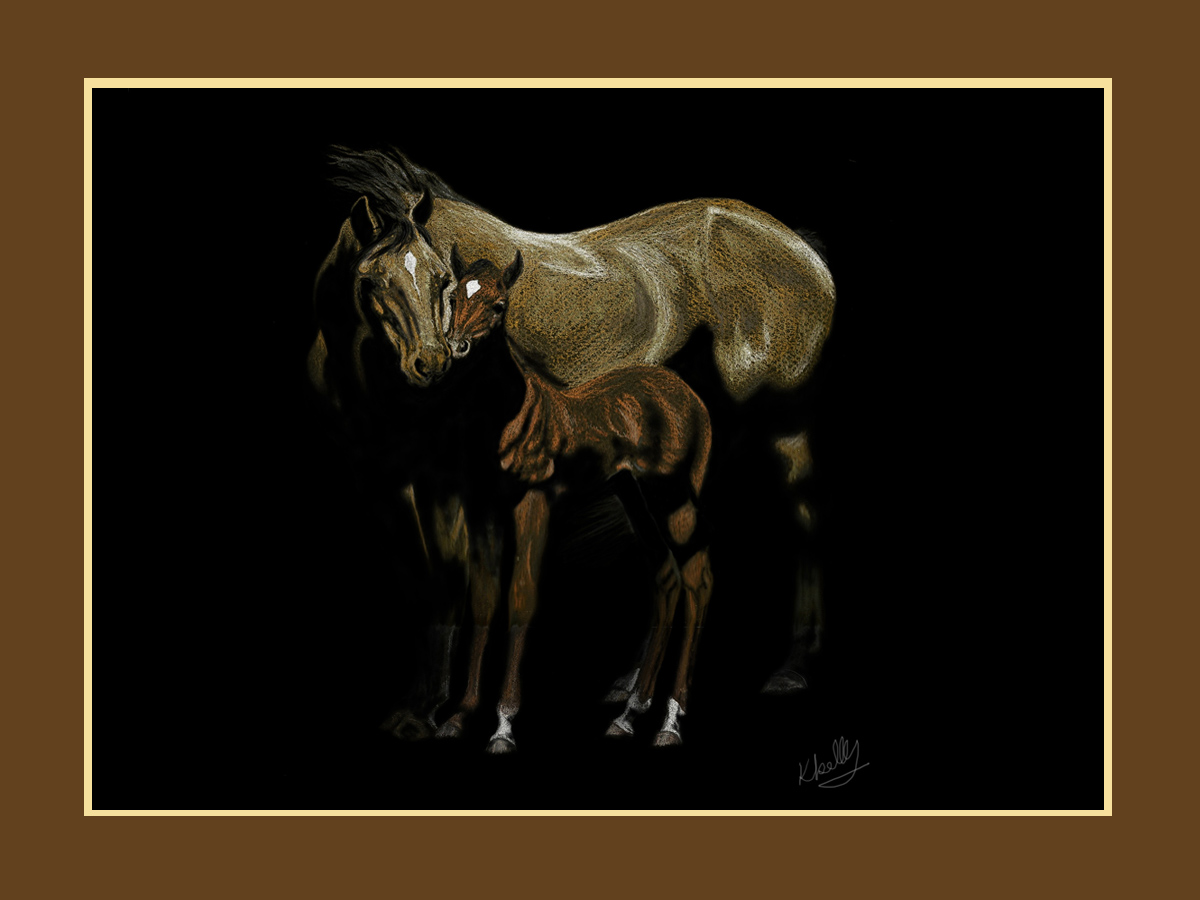 Mare and foal - color pencil
This is a recent work - 2011. The source was a black & white ad in The Horse Gazette, a local rag. I put some color into it. Buckskin is one of my favorte coat colors and I figured she would have a gorgeous copper colored colt. I love blackboard and working with shadows, so this picture was an excellent exercise. Color pencil on black paper. Prints only.
Aladin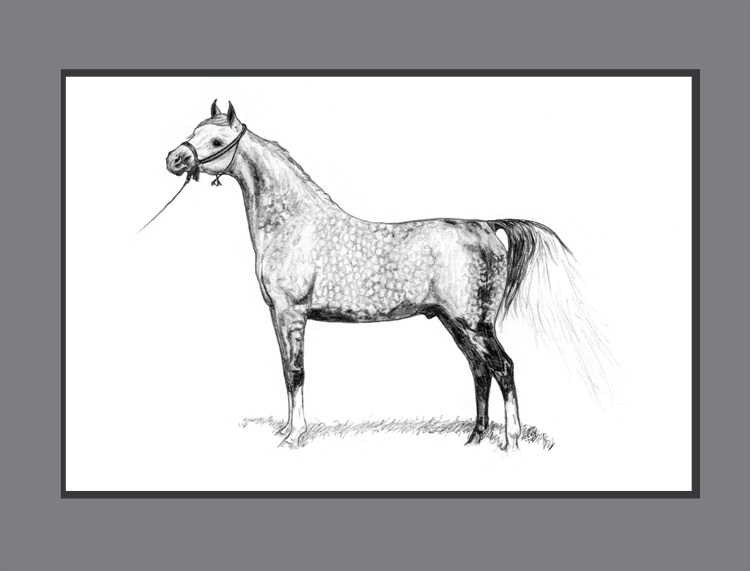 Aladin, an Arab stallion - pencil
When I was a kid I had many Breyer model horses, and one of my favorites was a Proud Arabian Stallion dapple grey repaited that I named Aladin. He actually won a few 'model' shows classes. My model for his portrait was the 1972 National Champion Stallion *Elkin. I noticed just recently that the markings of this favorite model from the 1970's is amazingly similar to my Welsh gelding Tobi! Prints only.
Dapple Arab Mare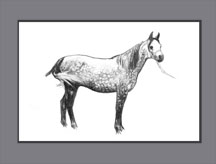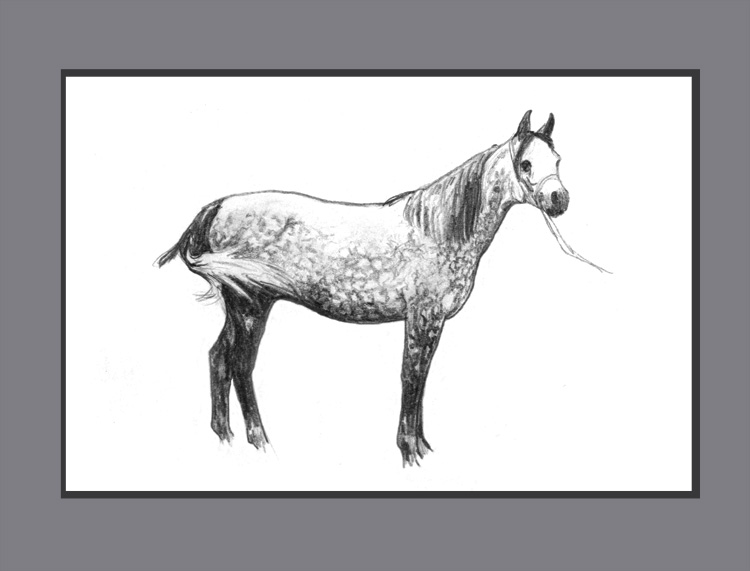 Dapple Arab Mare - pencil
Another one of my 'live' portraits for one of my Breyer model horses. The live model I used I believe might have been the 1972 National Champion Mare *Elkana, half sister the *Elkin. Prints only.
Racing Horse Home Stretch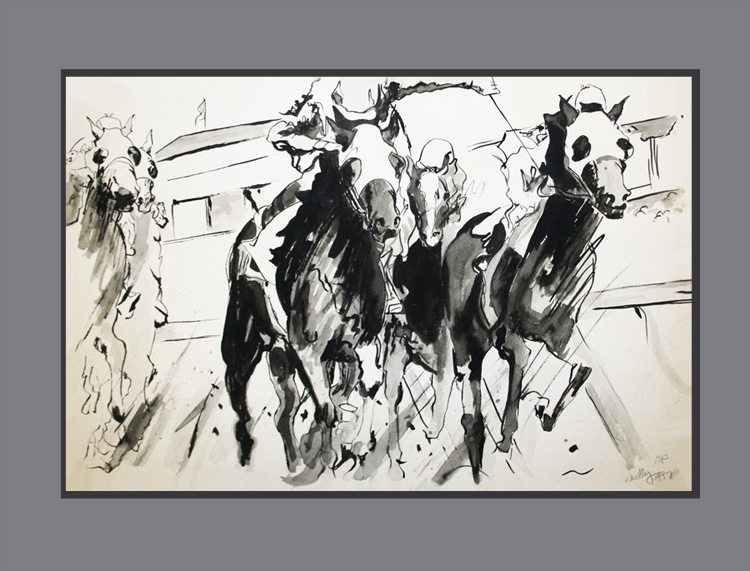 Racing Horses Home Stretch
One of my art school projects, a more abstract style. India ink wash. Prints only.
Cyldesdale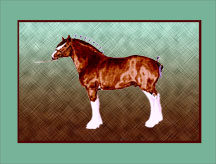 Clydesdale - pencil, colored graphically
Another one of my Breyer model 'portraits'. I had mostly Arabians, but a few other breeds, and one of them was a Clydesdale. I think I called him Sir Douglas McArthur. Prints only.